A trip to the sources of the river Sana, regarding opposition to the construction of hydroelectric power plants "Honey"
Over two hundred nature lovers visited on Sunday, 22.6. 2014th year, sources Sana river. The aim of this trip, which was organized by the Coalition for Sana, was to increase public awareness of the threat to the environment and encouraging active involvement of the general public in the protection and preservation. In addition, the Coalition for Sana in this way provides an opportunity for more people to visit one of the most beautiful and untouched for now parts of our country.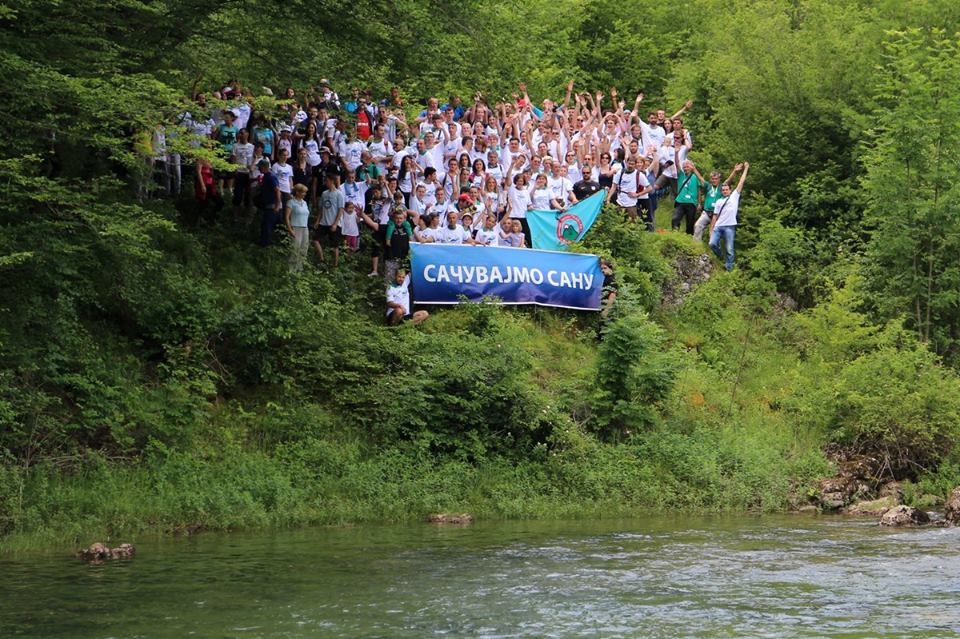 A trip to the sources of the river Sana, who was due to bad weather twice already canceled one, was organized within the project "Sana River - Nature Park", which is co-financed through international ETNAR project, and in cooperation with the Helsinki Citizens' Assembly Banja Luka.
This action is a continuation of the campaign of the Coalition for Sana against the construction of hydroelectric power plants, "Honey," the sources Sane. In addition, the Coalition has surrendered the initiative to the Ministry of Physical Planning, Civil Engineering and Ecology to initiate the procedure for preliminary protection of the river Sana, in accordance with the Regional Plan of RS by 2015., As a transitional solution until the final declaration of the nature park.
To remind you, the investor, "LSB Power" from Banja Luka, tried to build a small hydro power plant (MHE) "Honey" on the sources of the river Sana. Construction began, despite the fact that the Regional Plan Serbian headwaters Sana designed as a nature park, and sources Sana to be strictly protected, due to natural and environmental values​​. RS Government adopted the Regulation on water classification and categorization of watercourses, which is the river Sana classified in the first category. Only three rivers in the RS are in this category.
At the initiative of the author relays "Aqua Sana," Amir Talic, the Coalition for Sana this year took over the implementation of these traditional events, canceled earlier this year after organizers. The coalition within the aforesaid trips to the affected water source for Sana baton.
Cyclists from Banja Luka, Prijedor and the guides are for three days carried the baton through all the towns that lie on the river Sana. Water from the relay, the affected source to its final destination in New City will be released at the mouth of the Una Sana with a constant message that we Sana entire course is just as clean as the source and at the mouth.